Bete & Deise [2012]
digital video, colour, soundtrack
41 min.
with
Bete Mendes
Deise Tigrona
camera
Heloisa Passos
sound recording
Marcos Cantanhede
sound mix
Charly van Rest
filmed on location
Capacete (at the time of its construction), Glória, Rio de Janeiro
comissioned by
Frédérique Bergholtz for
If I Can't Dance, I Don't Want To Be Part Of Your Revolution ︎
Bete & Deise
stages an encounter between two women in Rio de Janeiro: Bete Mendes and Deise Tigrona. These women have – each in their own way – given meaning to the idea of a public voice. Since the 1960s, Mendes has maintained a political career alongside her acting career in popular television. Mendes was involved in the armed resistance group of the student movement against the dictatorship, and was part of the labour movement in the 1970s, co-founding the Partido dos Trabalhadores, the workers' party that has given rise to Brazil's former presidents, Lula de Silva and Dilma Rousseff. Tigrona, for her part, is one of the most powerful female voices in the Funk Carioca movement. Growing up and performing as a singer in the impoverished community of Cidade de Deus, she rose to great international popularity when her song 'Injeção' was used as the basi for M.I.A.'s popular hit 'Bucky Done Gun'. She was forced to take a step back when it became too burdensome to combine her music career with her tough family lif in Cidade de Deus. However, more recently she has made a strong come-back.
Together these women talk about their experience with performance and their position in the public sphere, allowing for the contradictions that they each carry within themselves to surface.
Stills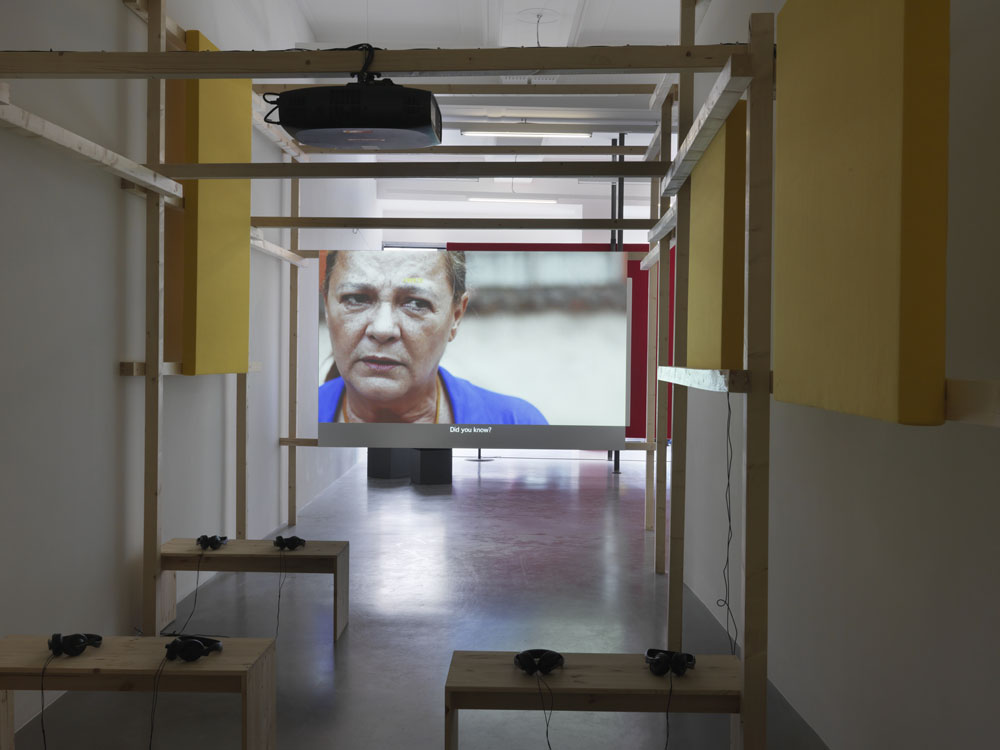 Installation view at daadgalerie, Berlin, 2016. Photograph by Jens Ziehe
Installation view of tono lengua boca, 2019, solo presentation at CA2M, Madrid. Photograph by Paula Caballero