of girls [2022]
single channel film installation
40min.
with
aliwen
Greg Dvorak
Hanna Hirakawa
Veronika Ikonnikova
Ariko Kurosawa
Chelsea Szendi Schieder
Kiyomi Sokolova-Yamashita
Mariko Tamura
Kanae Tanikawa
Yiqing
Miyu Yokota
camera
Yukiko Iioka
camera assistant and lighting
Yoshio Kitagawa
Takuya Murakami
sound
Young Chang Hwang
Ryota Fujiguchi
line producer
Natsuko Odate
texts recited from
Fumiko Hayashi,
Aouma Wo Mitari
(I saw a pale horse),
Tokyo: Shunon Tosho Center, 2002 (English translation
from
I Saw a Pale Horse and Selected Poems from Diary
of a Vagabond
(J. Brown, Trans.), New York: Cornell
University East Asia Program, 1997)
Fumiko Hayashi,
Horo-ki Fukugenban
(Diary of a Vagabond, Restored Version), Tokyo: Ronsosha, 2012 (English translation from Joan E. Ericson,
Be a Woman: Hayashi Fumiko and Modern Japanese Women's Literature
,
Honolulu: University of Hawaii Press, 2016)
Ariko Kurosawa,
Ofuku-Shokan: Miyamoto Yuriko To Yuasa Yoshiko
(
Letters between Yuriko Miyamoto and Yoshiko
Yuasa)
, Tokyo: Kanrin Shobo, 2008
Yuriko Miyamoto, "Fashism Wa Ikiteiru (Fascism is alive),"
Heiwa Wa Nemuri Wo Yurusanai
(Peace permits no sleep), Tokyo: Shin-Nihon Shuppan, 1989
Yuriko Miyamoto, "Chibusa (Breasts),"
Miyamoto Yuriko Senshuu
(Anthology of Yuriko Miyamoto, Vol. 3), Tokyo:
Shin-Nihon Shuppan, 1968
filmed on location
Hayashi Fumiko Memorial Hall
Kanagawa Prefectural Library
Moto-Eigakan
produced and supported by
Museum of Contemporary Art Tokyo Mondriaan Fonds
review by Jesse Catherine Webber ︎︎︎
Filmed in Tokyo and Yokohama,
of girls
brings a variety of contemporary voices in resonance with two distinct female voices from Japan's literary and political past. Both popular authors of their time—the period from the late 1920s on—Fumiko Hayashi and Yuriko Miyamoto both died young, in 1951. They each had a strong feminist and class consciousness as well as an impressive literary voice, but came from very different backgrounds and expressed their ideals through different paths.
Born to a deprived family, Fumiko Hayashi made her name as an author with semi-autobiographical fiction novels and poetries, in which she openly expressed a sense of female class solidarity and sexual desire. With her success she eventually designed and built her own house in Shinjuku, Tokyo. During the wars, she was sent by the Imperial Army and major newspapers to the occupied territories—among them Indonesia—and contributed various articles and poems.
Yuriko Miyamoto is remembered for the political rigor of her writings and life that pursued socialist ideals and women's liberation. She was born into a privileged family, and married a Japanese man after her study in New York, but left him after meeting the researcher of Russian literature, writer and openly lesbian Yoshiko Yuasa. For seven years Miyamoto lived with Yuasa, and she wrote several novels about their relationship. Later she married the socialist leader Kenji Miyamoto and continued supporting him in prison, while Yuriko herself was imprisoned various times.
The power and contradictions in both these women's words reverberate in dialogues and images of an intergenerational cast moving through the various spaces of knowledge, memory and culture, and reflect today's struggles around gender, politics, and love.
stills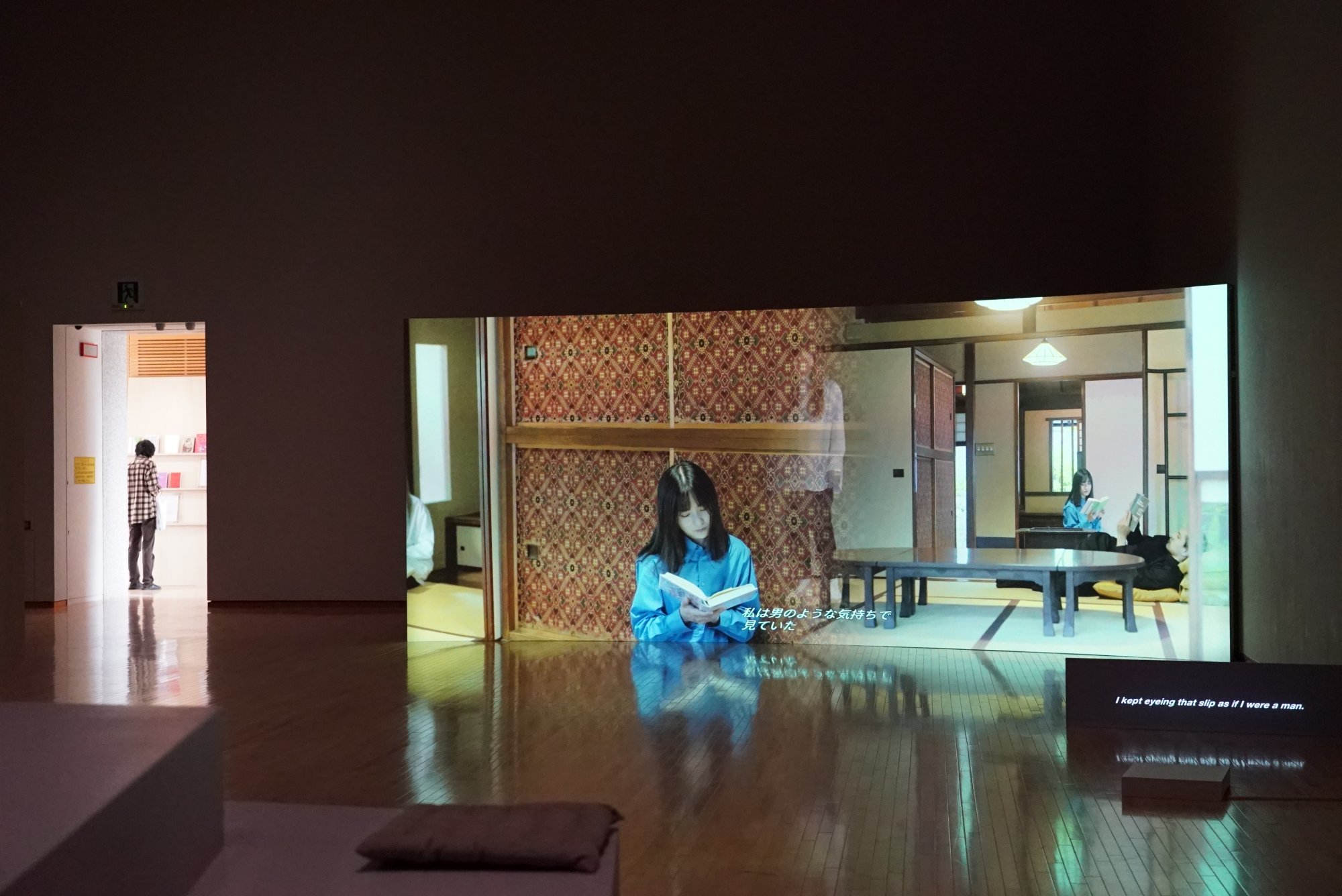 Installation view
Photographs by Kenji Morita 森田兼次.